Submitting details.
Please wait ...
In-Situ Construction & Maintenance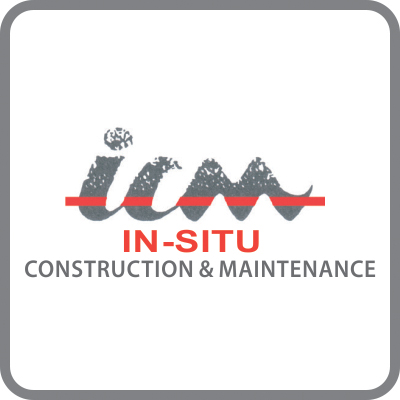 Verified 49 Bailey Street, Dongara, WA, 6525
Monday
8.30am
-
4.00pm
Tuesday
8.30am
-
4.00pm
Wednesday
8.30am
-
4.00pm
Thursday
8.30am
-
4.00pm
Friday
8.30am
-
4.00pm
Saturday
closed
Sunday
closed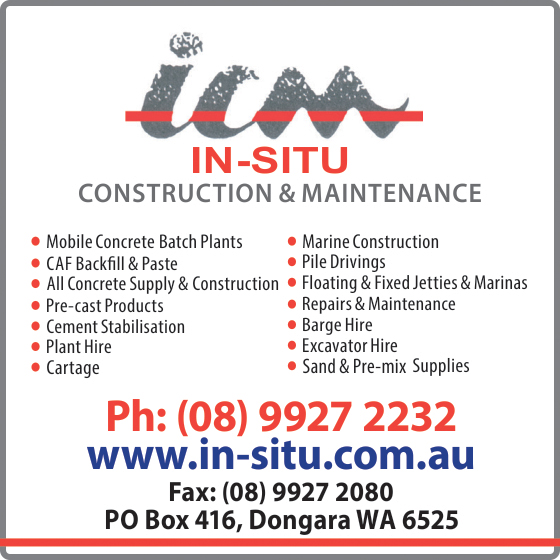 Our Story
Established in Dongara, Western Australia in 1991, In-Situ Construction & Maintenance is an Australian construction company. The business was started by two full-time partners, Jim and Geoff Bavoillot. They specialise in medium to large concrete and earthworks, mass gravity stabilisation, mine maintenance, and marine construction Australia-wide.
What We Do
We specialise in providing the following services, such as:
Civil construction

Concrete placement from major construction contracts to pathways

Concrete manufactured in exact quantities to the required specifications

Mobile Concrete Batch Plans

CAF Backfill & Paste

All Concrete Supply & Construction

Pre-cast Products

Cement Stabilisation

Plant Hire

Cartage

Marine Construction

Pile Drivings

Floating & Fixed Jetties & Marinas

Repairs & Maintenance

Barge Hire

Excavator Hire

Sand & Pre-mix Supplies

Engineering capabilities
Why choose In-Situ Construction & Maintenance?
ICM has maintained a verifiable track record for successfully completing multi-million dollar projects with fast turnaround times. We take pride in our professional and well-trained staff, capable of completing difficult jobs on schedule and the ability to work in remote locations with limited communication and logistical support.
Details
Category
Concrete Supplies & Products
Promotional Feature

As a family-owned and operated business, In-Situ Construction & Maintenance specialises in medium to large concrete and earthwork civils, mass gravity stabilisation, mine maintenance and marine construction. The company has successfully diversified into marine construction and has completed numerous projects of this nature. For more information, click here to visit our business page!

Benefit Checklist

Quality Concrete Supplies & Products

Trusted Supplier

Budget-Friendly Prices

Localities
Dongara - Port Denison
ABN
83 062 001 923
ACN
062 001 923
Keywords
construction company, construction services, construction and maintenance service, general contractor in dongara, civil construction service